Important Decision
Exhaust repairs are complex, time-intensive jobs that neither technicians nor customers want to do twice. When replacing an exhaust manifold, exhaust manifold gasket, exhaust flange gasket or broken fastener, the key to a successful repair is using the right parts. Often overlooked, the choice of fasteners and bolts can be the difference between a reliable repair and a job that needs to be redone.
The Right Choice
FEL-PRO EXHAUST MANIFOLD FASTENERS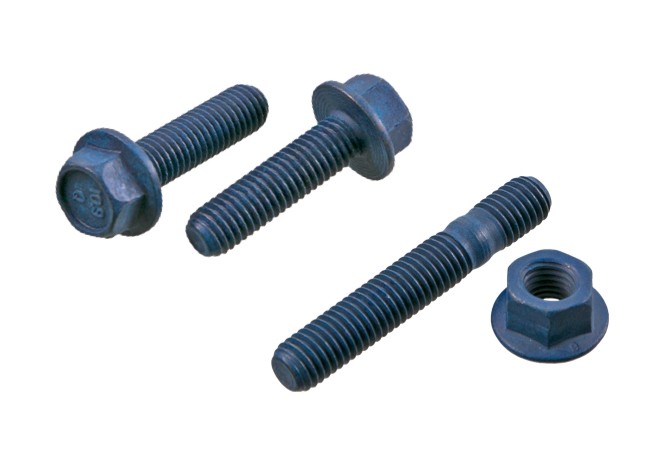 Fel-Pro® exhaust manifold fasteners are the right choice to ensure a properly fitting exhaust manifold gasket replacement. Designed for specific applications, you can count on Fel-Pro exhaust manifold fasteners to maintain both the correct torque specs and the manufacturer's recommended clamp load to ensure a tight, lasting seal. In addition, we also offer exhaust flange fasteners to attach the front pipe to the manifold for a complete repair. Fel-Pro fasteners are designed to be the correct fastener for the application – no more looking for "something that's close."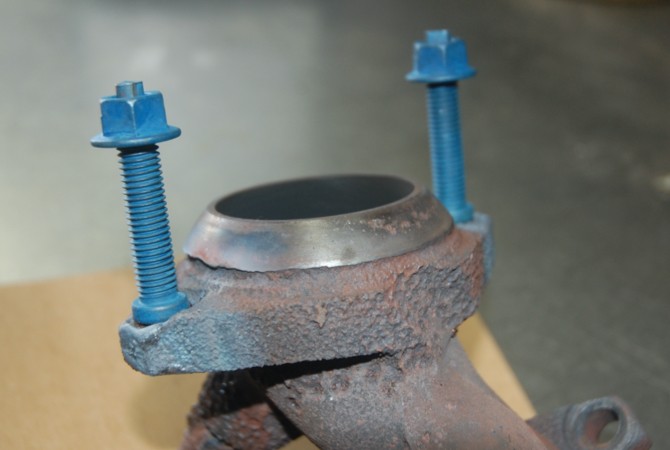 Fel-Pro ES75105 installed on a Ford 4.6L exhaust manifold
The proprietary coating helps protect bolts from corrosion despite the high temperatures and harsh conditions at the manifold. The coating also makes removal easier if future repairs or improvements are required, and reduces the need to use anti-seize products.

Problem-solving features
Designed for the exhaust system repair environment
Proprietary coating resists corrosion and aids removal
Tightly controlled coefficient of friction for reliable installation
Application-specific kit contents
Includes locking nuts (where applicable)
| | | |
| --- | --- | --- |
| Fel-Pro Part Number | Description | Application |
| | Exhaust Flange | 1968-2007 Acura/Honda/Lexus/Toyota/Isuzu |
| | Exhaust Flange | 1990-2007 Ford V6 3.0L, 12 Valve |
| | Exhaust Flange | 1997-2006 Ford 4.2L/4.6L/5.4L/ 6.8L |
| | Exhaust Flange | 1987-2010 Ford 256/300/302/351W/415/460 |
| | Exhaust Manifold | 2005-2012 Dodge/Jeep V8  4.7L |
| | Exhaust Manifold | 1982-1993 GM V6/V8 |
| | Exhaust Manifold | 1980-1996 Ford 4.2L/5.0L |
| | Exhaust Manifold | 1988-1997 Ford 5.0L/5.8L/6.6L (RH) |
| | Exhaust Manifold | 1980-1997 Ford 5.0L/5.8L/6.6L (LH) |
| | Exhaust Flange | 1996-2017 Ford 4.6L/5.4L V8; 6.8L |
| | Exhaust Manifold | 1991-2002 GM 5.0L/5.7L |
| | Exhaust Manifold | 2000-2011 GM V8/Chrysler V6/Saab L6 V8/Isuzu L6 V8/VW V6 |
| | Exhaust Manifold | 1999-2008 Ford V6 |
Please click the link on each part number for complete application information; visit drivcat.com for application-specific lookup.
Learn more about Fel-Pro quality gaskets that are specifically designed for the repair environment, find your car part, or find where to buy your auto part today.
The content contained in this article is for informational purposes only and should not be used in lieu of seeking professional advice from a certified technician or mechanic. We encourage you to consult with a certified technician or mechanic if you have specific questions or concerns relating to any of the topics covered herein. Under no circumstances will we be liable for any loss or damage caused by your reliance on any content.