Inside the Problem
General Motors' LS V8 engine has proved to be a popular engine for the auto giant. Debuting in 1997, this engine is found in Chevrolet and GMC models like the Camaro, Corvette, Silverado, Sierra, Suburban, Yukon, Express and Savana.
The GM LS engine uses edge-molded rubber gaskets for the intake manifold gasket. The valve cover gaskets are made from rubber and are a press-in-place (PIP) design. Some LS engines use an edge-molded rubber gasket for the lifter valley cover. Over time with repeated heating/cooling cycles and poor oil maintenance, compression set can occur. This condition is when the rubber in the gasket becomes compressed and keeps it from rebounding to its original shape which results in the gasket seeping or leaking.
The Solution
Engineered and manufactured specifically for the repair environment, Fel-Pro® gaskets are the perfect replacement for gaskets that have failed due to compression set. Designed to stand up to the demands of today's vehicles, Fel-Pro intake manifold gaskets, valve cover gaskets and head gasket sets for the LS engine use the right materials and technologies.
Innovations like PermaDryPlus® and PermaTorque® MLS with LaserWeld™ Stopper Layer Technology ensure a reliable seal and is why professional technicians install Fel-Pro gaskets with confidence. Fel-Pro offers gasket sets that contain the necessary gaskets and seals needed for the upper engine gasket repair you're performing.
MS 98016T
This Fel-Pro PermaDryPlus intake manifold gasket features molded rubber over an aluminized steel carrier which resists high heat along with repeated expansion/contraction cycles. In addition, proprietary rubber sealing beads to help eliminate potential leak paths for a superior seal. Torque limiters help eliminate overtightening and gasket splitting/extruding while locating tabs assure proper alignment and easier installation.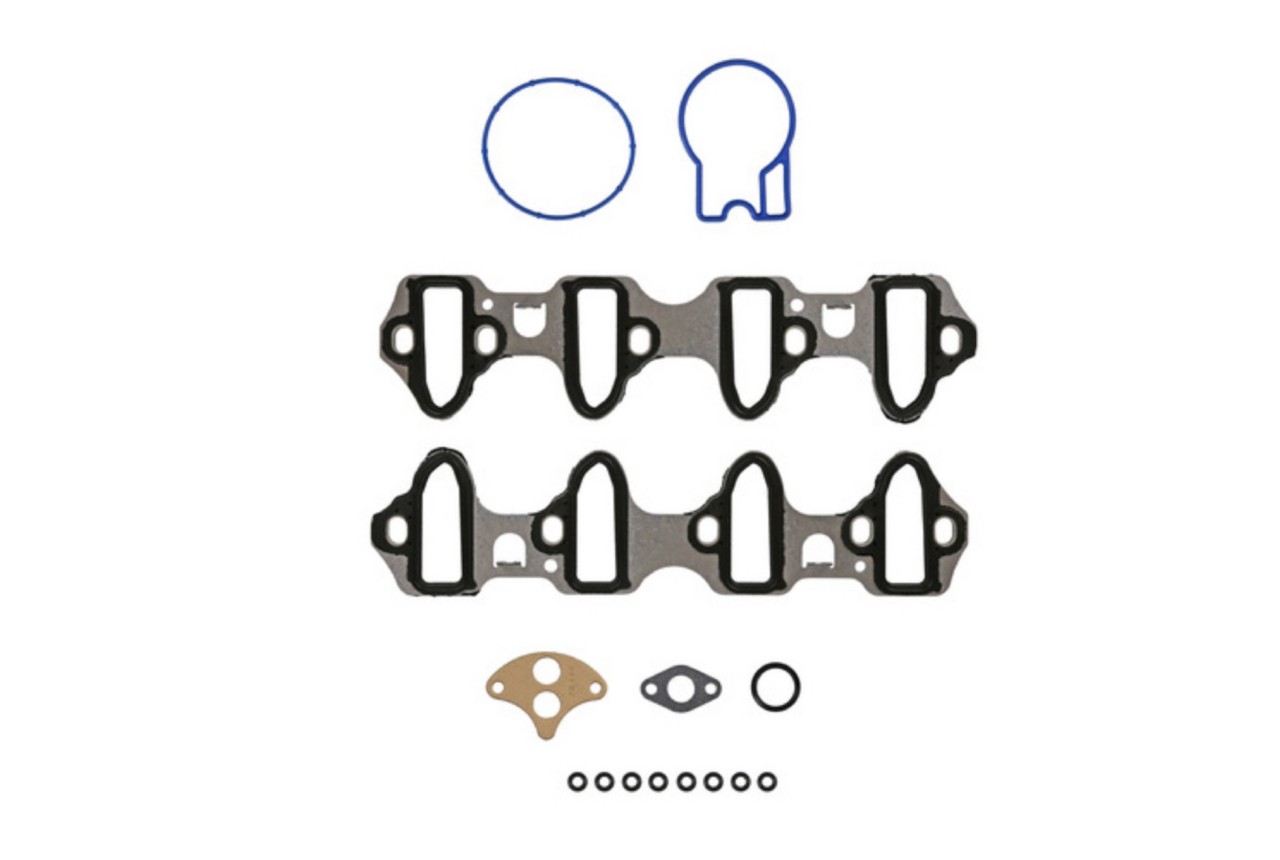 VS 50504 R-1
This Fel-Pro valve cover gasket set features a proprietary rubber formulation for a reliable seal. Highly conformable to accommodate imperfect sealing surfaces, the set has retention tabs to hold the gasket in the cover during tight installations and incudes the valve cover bolt grommets to complete the sealing job.
HS 26190 PT-2/PT-4
This Fel-Pro head gasket set features a nonstick anti-friction coating that seals small surface scratches and imperfections. Designed to work up to an 80 Ra surface finish to seal imperfect sealing surfaces, the head gasket has multi-layers of stainless steel that helps eliminate the need for retorquing head bolts as well as accommodating head lift. These gaskets feature Fel-Pro's exclusive LaserWeld stopper layer technology providing a strong combustion seal. Precise embossed sealing beads are placed in vital areas to eliminate leak paths. These head sets contain valve stem seals, lifter valley cover gasket, exhaust manifold gaskets and other ancillary gaskets and seals needed to do a complete the upper engine reseal.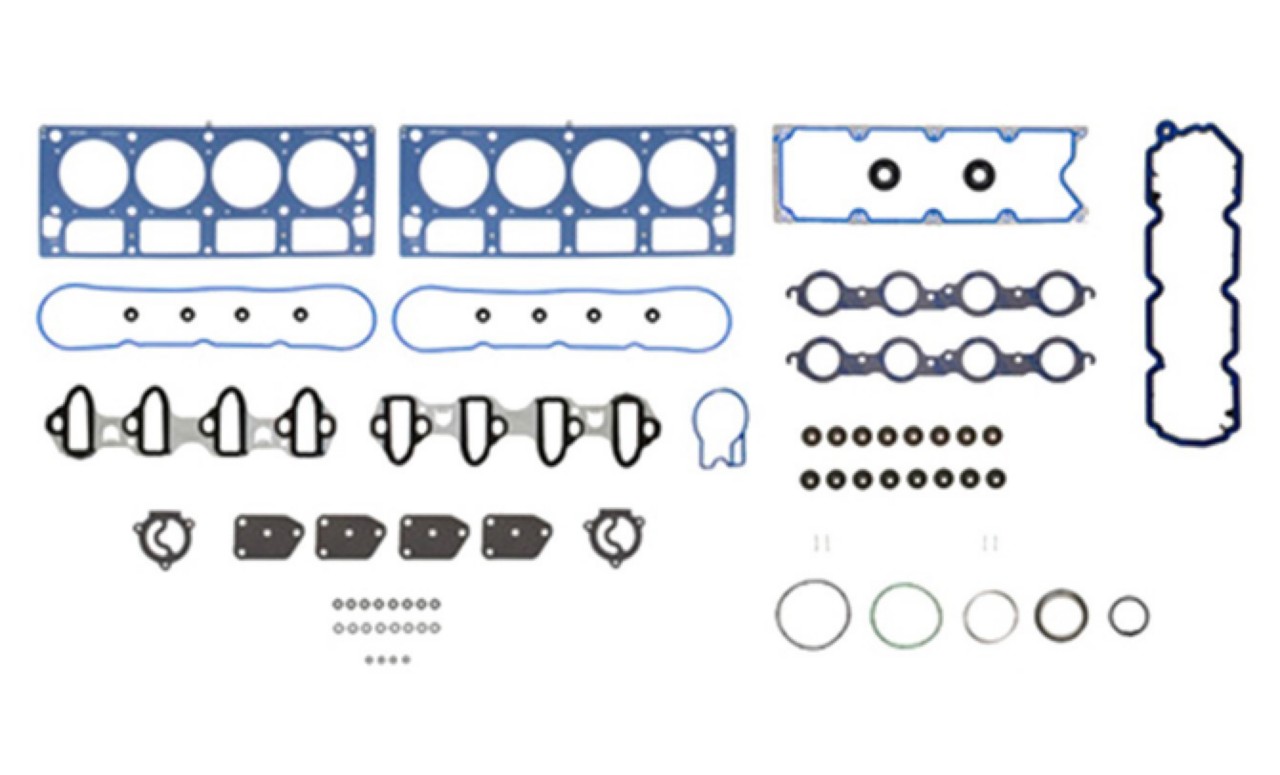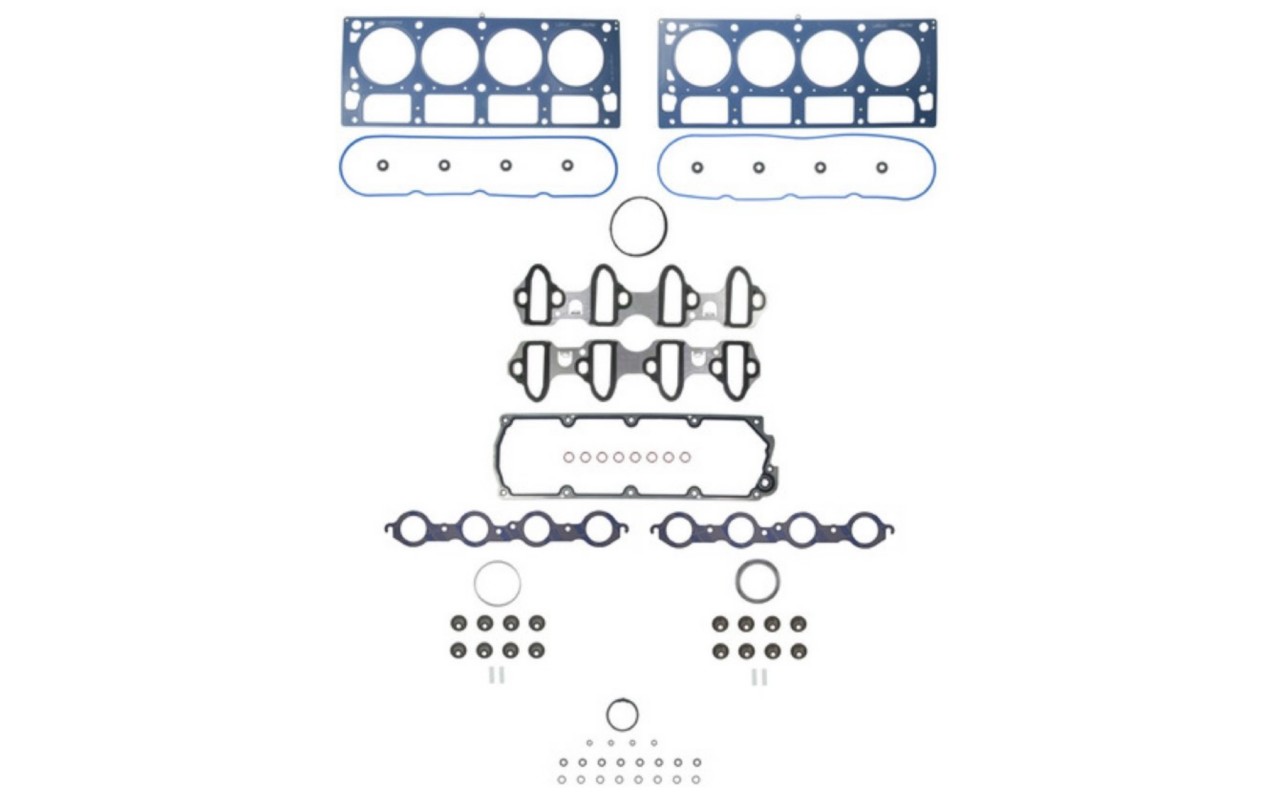 Part Number
Type
Application
MS 98016T
Intake Manifold Set

2005-2007 Buick Rainier 5.3L, V8

2007-2013 Chevrolet Avalanche 5.3L, V8

2009 Chevrolet Colorado/GMC Canyon 5.3L, V8

2005-2013 Chevrolet Silverado 1500/GMC Sierra 1500 5.3L, V8

2007-2014 Chevrolet Suburban 1500 5.3L, V8

2007-2014 Chevrolet Tahoe/GMC Yukon 5.3L, V8

2006-2009 Chevrolet Trailblazer 5.3L, V8

2005-2009 GMC Envoy 5.3L, V8

2008-2009 HUMMER H3

VS 50504 R-1
Valve Cover Set

2010-2012 Chevrolet Colorado/GMC Canyon 5.3L, V8

2008-2013 Chevrolet Silverado 1500/GMC Sierra 1500 4.8L, V8

2009-2014 Chevrolet Express/GMC Savana 1500 5.3L, V8

2008-2017 Chevrolet Express/GMC Savana 2500 4.8L, V8

2008-2017 Chevrolet Express/GMC Savana 3500 4.8L, V8

2008-2009 Chevrolet Tahoe/GMC Yukon 4.8L, V8

2010 HUMMER H3/H3T 5.3L, V8

HS 26190 PT-2
Head Gasket Set
HS 26190 PT-4
Head Gasket Set
---
Learn more about Fel-Pro quality gaskets that are specifically designed for the repair environment, find your car part, or find where to buy your auto part today.
The content contained in this article is for informational purposes only and should not be used in lieu of seeking professional advice from a certified technician or mechanic. We encourage you to consult with a certified technician or mechanic if you have specific questions or concerns relating to any of the topics covered herein. Under no circumstances will we be liable for any loss or damage caused by your reliance on any content.

© 2022 DRiV Automotive Inc. or one of its affiliates in one or more countries.