Leak Repair
Valve Cover Gasket Sets
Valve cover gaskets are the most common leak repair product. Fel-Pro offers a full range of valve cover products to cover a variety of applications and repair needs.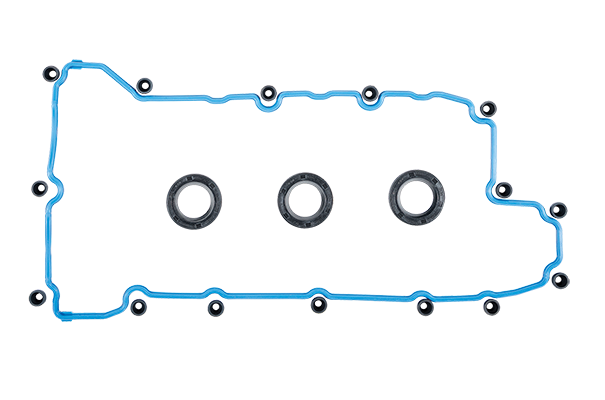 PERMADRYPLUS® VALVE COVER GASKETS
Key Innovations
1: Rigid carrier resists high heat and vacuum.
2: Silicone rubber sealing beads compensate for surface irregularities.
Additional Features
3: Built-in torque limiters prevent over-tightening and gasket splitting.
4: Locating tabs assure proper alignment.
5: Bolt Hole Locks® hold gasket and bolts in place to speed installation.
PermaDryPlus
PermaDryPlus® gaskets feature molded rubber over a rigid carrier. These premium gaskets are the right choice for applications in which traditional replacement gaskets have been known to fail or are difficult to install. Its reliable fit and construction makes installation easy, and its performance is proven to be superior even on troublesome applications.

PermaDry
PermaDry® premium molded rubber is designed for those applications that utilize a molded rubber gasket as Original Equipment. Molded-rubber gaskets are precision-designed to work with the valve cover, which often has a special groove formed or cast into it. Engineers determine the exact amount of "squeeze" needed to achieve a secure seal.
Blue Stripe®
Blue Stripe cork-rubber combines the qualities of cork and rubber gaskets. It maintains its shape and flexibility, yet is highly compressible. It seals well because of its good compressibility and is easier to install than synthetic rubber gaskets because cork-rubber is somewhat rigid.