Leak Repair
Oil Pan Gaskets
Many current engines use heavier, cast oil pans to add supplemental strength to the vehicle frame. These engines require complex molded-rubber or rigid carrier design gaskets. Fel-Pro's application-specific oil pan gaskets are designed to more than meet this challenge.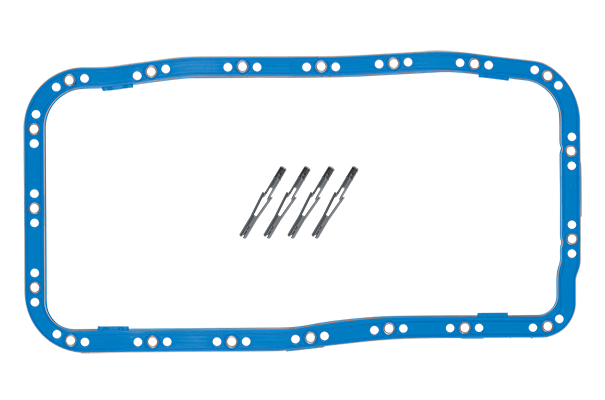 PERMADRYPLUS® OIL PAN GASKETS
Key Innovations
1: One-piece construction (vs OE multi-piece or RTV) makes installation easier.
2: Rigid carrier for durability, perfect alignment and instant fit.
Additional Features
3: Oil pan SnapUps® hold the gasket in place for quick bolt installation.
4: Silicone rubber eliminates leak paths, especially in problem corner areas.
PermaDryPlus
Fel-Pro® PermaDryPlus® gaskets' one-piece construction makes installation easier than OEM style multi-piece assemblies or RTV sealing. Edge-molded silicone rubber on a rigid carrier provides superior fit, and high heat and vacuum resistance, while the included Oil Pan SnapUps® speed installation.

PermaDry
Fel-Pro® PermaDry® premium molded rubber gaskets seal so well that their use means virtually no drip spots on the garage floor, making it the perfect replacement for OE molded rubber gaskets. Its casting is engineered with the molded rubber gasket to provide an even clamping force along the entire oil pan.
Blue Stripe®
Blue Stripe cork-rubber combines the qualities of cork and rubber gaskets. It maintains its shape and flexibility, yet is highly compressible. It seals well because of its good compressibility and is easier to install than synthetic rubber gaskets because cork-rubber is somewhat rigid.