Engine Repair
Head Gaskets
First developed and validated in partnership with professional stock car racing teams, the LaserWeld™ stopper layer design is now available in Fel-Pro® PermaTorque® MLS (multi-layer steel) head gaskets for a broad range of performance and next gen high-output engines. The innovative LaserWeld combustion seal ring helps reduce head lift commonly encountered in many late-model engines, prevents gasket damage and ensures a stronger, more superior combustion seal.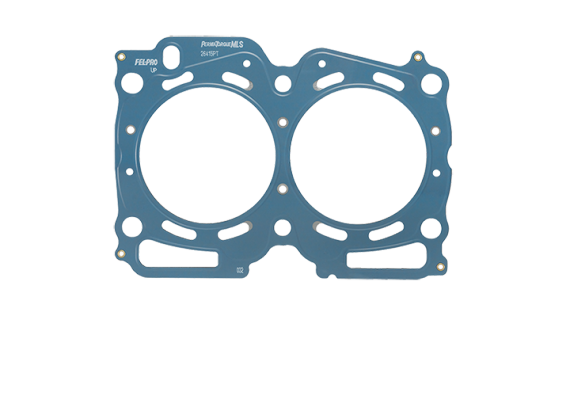 PermaTorque MLS® Head Gaskets with Laser Weld
Key Innovations
1: LaserWeld™ Stopper Layer Technology for stronger combustion sealing and decreased cylinder head lift.
Additional Features
2: Exclusive blue coating seals rougher finishes (up to 60 Ra).
LaserWeld™ is a sophisticated head gasket stopper layer technology that provides a precisely determined limit to the compression of the multiple layers within the PermaTorque® MLS gasket, while ensuring proper sealing stress between the cylinder head and block. This reduces head lift and bore distortion, prevents gasket damage, and ensures a superior seal.
Permatorque MLS
These full-hard multi-layer stainless steel head gaskets provide the correct design for MLS-equipped vehicles and have many unique features that provide for a superior seal, including a unique aftermarket coating that accommodates less-than-perfect surface finishes up to 60 Ra (360 Rz).

PermaTorque
The industry standard for no-retorque head gaskets, they feature solid or perforated steel facings, and precision stamped and formed combustion armors, and are available with the famous Blue Stripe® coating or with Printoseal® elastomeric sealing beads, as the application requires.

Permatorque SD
Ruggedly engineered, these head gaskets feature an impressive collection of exclusive enhancements that ensure superior performance and longevity under the toughest conditions and keep severe duty vehicles' (like RV, commercial, and towing vehicles) engines sealed reliably.