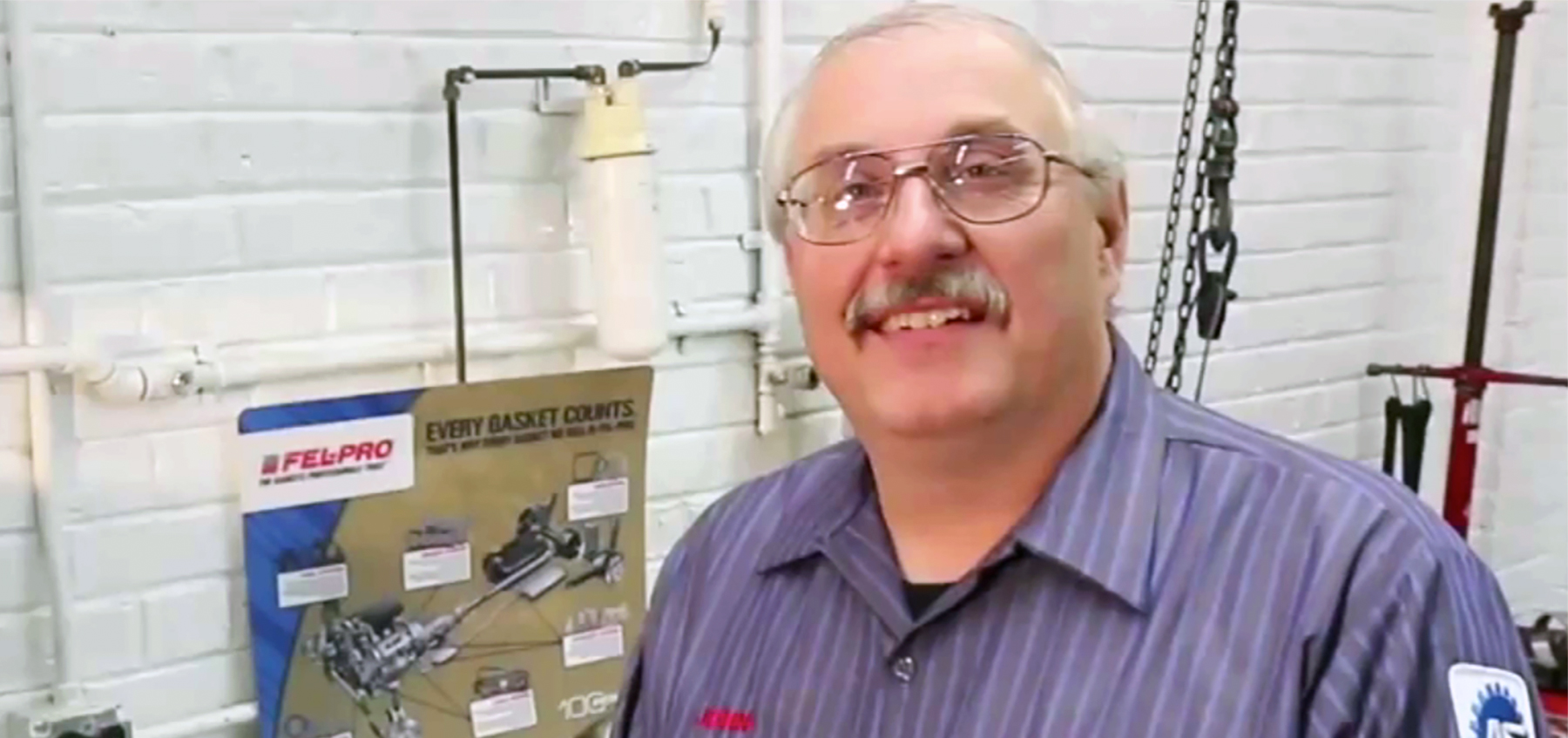 We usually find Fel-Pro Master Technician John Gurnig working inside the Fel-Pro Test Garage in Skokie, Illinois. In this brief Q&A, we'll learn a bit more about that, but also about John himself and what fuels his love of cars, engines and performance.
So who is John Gurnig?
I'm a car guy. I've had a love affair with the automobile since I was very young. My parents told me that even before I started school I could correctly name all the vehicles I saw on the street.
My dad was a do-it-yourself guy, fixing up the house and doing his own car repairs, so I picked up working on cars from him. My first experiences were limited to his '65 Ford Galaxie, '68 Malibu, '72 Plymouth Fury and an Olds Delta 88. He also piqued my interest in building models when I was in my teens. I looked forward to receiving them at Christmas and would spend my whole Christmas break putting them together. A lot of my allowance money was spent on models and Hot Wheels cars.
In high school my buddies were into "old" cars, and we would work on their restorations. My good friend Joe had a love of '57 Chevys and that grew into a partnership that took us and his '57 to the drag strip.
So after high school, I headed to an auto/diesel program. Completing that program allowed me to get hired at a couple of repair shops and then, later, at a dealership. I came to Fel-Pro in 1987. I've been an ASE Master Tech since the early 1980s, L1 certified since the first test. My actual job title here is Field Test Technical Specialist.
How old were you when you started working on cars?
I was probably around 8. It was that time spent with my dad that gave me the knowledge to help my buddies with their old cars or racecars. I also visited the occasional swap meet and I still like to hit the summer cruise night events. I still subscribe to a ton of car magazines that aren't trade publications. Believe me, I don't hang up my wrenches when I'm done at the Field Test Garage at the end of the day.
What was your first car?
It was the 1968 Plymouth VIP (Fury). It was my mom's car and I bought it from her when I turned 16. I learned a lot from that car and having to maintain it: tune-ups, setting points, adjusting carbs. It was a blue two-door with a black vinyl roof.
Describe the Fel-Pro Field Test Garage for our readers.
The Field Test Garage (FTG) and Product Test Lab were here before I started here 27 years ago. Testing our products has long been part of the Fel-Pro success story. The FTG is a crucial part of the Product Test Lab because it validates the components that go into our gasket sets. [See more about product validation in the question below.]
It includes our Static Test Lab where we validate parts and materials before they're made into gaskets. We also have a Material Test Lab that tests the materials and their construction to see if they are worthy of the Fel-Pro name. It also includes our Dyno Lab, which tests gaskets under extreme conditions to verify that they'll perform to our high standards.
The FTG also ensures that the Fel-Pro parts you purchase fit and provide you and your customers with a 100% leak-proof seal.
Our engineering team here in Skokie has over 300 years of combined experience in the sealing industry. The engineering staff works closely with our Test Tab team in researching new parts and materials and in designing gaskets and seals.
Engineering, the Product Test Lab and the Field Test Garage are all located under one roof in Skokie, and we all work together to make the best gaskets available. Not many other companies can say that.
How many vehicles are used in testing Fel-Pro gaskets at the Field Test Garage?
I keep a fleet of 70 vehicles running to test a wide variety of Fel-Pro parts – everything from intake manifold gaskets down to oil pan gaskets and everything in between, as well as drivetrain seals. New test vehicles are introduced as needed.
The FTG uses employees' vehicles to validate our gaskets and seals. This demonstrates the confidence we have as Fel-Pro team members. Additionally, our employees offer us a variety of driving cycles against which to test our products. The vehicles come back every 6 weeks to have their test parts inspected, which we do both under bright lights and ultraviolet lights with dyes in the fluids to ensure our gaskets and seals have no leakage. The engineering staff is frequently involved in these inspections. Another benefit of the FTG is that all the ancillary, non-test gaskets that are installed as part of a field test are also monitored. This becomes an on-going quality check for all the gaskets that go into a Fel-Pro box.
In addition to gasket testing, we also conduct tests of products from other brands of Federal-Mogul Motorparts.
Can you tell us more about the validation process?
It actually starts well before the gasket is designed. Our engineers conduct extensive research materials and designs as well as engine operating requirements to determine how to develop the best gasket for each application. This involves measuring components, understanding the sealing joint(s), researching what's worked in the past and analyzing if this gasket would benefit from a change in design features.
From there it goes to the Product Test Lab to verify the design and materials under rigorous conditions, and then on to dyno or field testing. In each phase of validation we work closely with the engineering team, providing them with feedback on how their parts are doing throughout the test.
Once the test is completed, the test parts are removed and evaluated by the engineering staff to determine if the part is ready to be released or if further testing is needed. The bottom line is that throughout the process there are many people working closely with each Fel-Pro product to make sure it will work for you out in the real world.
Give us a quick summary of what Fel-Pro accomplished in 2014.
In 2014 the all-new www.FelPro-only.com website was launched to showcase all of the products Fel-Pro manufactures and provide technical videos to help our customers. The site also features a "Break Room" forum where technicians and others can ask questions about our products. I'm part of the group that answers those questions.
In 2014 we had 37 vehicles that completed their testing, accumulating a combined total of close to 1 million miles with our products in place. (And there are other, ongoing tests that have already logged nearly 300,000 miles.) The last two winters in Chicago have been extremely challenging, with extreme cold and snowy conditions, yet I have not had any Fel-Pro gasket or seal failures under these conditions.
What's in store for 2015?
More testing! I'm just finishing installing a head gasket test today on a Kia model. Next week I have another one for a GM vehicle. I'll be producing more videos in the coming months as well as helping to answer the questions posted in the online Break Room forum. I also will be working with a Subaru performance engine buildup coming later this year. I hope to make it to a few trade shows and also the racetrack to meet with people and help them with any sealing issues they might have.
Thanks for taking the time to talk with us today! Before we go, tell us about the phrase "clean and dry" and how it has become a catchphrase for Fel-Pro.
"Clean and dry" came about in 2014 as we were shooting some of our FTG videos. We design Fel-Pro products to be installed without having to rely on chemicals to "help" seal the gasket. While it is true you will always need RTV for specific sealing areas, such as the corners of intake gaskets or oil pans, Fel-Pro gaskets are designed to be installed "clean and dry" and to seal without any help from a can or tube.