Fel-Pro Performance Gaskets Sponsors 13th Annual NMCA World Street Finals
Hundreds of drag racers and thousands of performance enthusiasts turned out October 9-12 for the Fel-Pro® Gaskets NMCA World Street Finals at Lucas Oil Raceway in Indianapolis.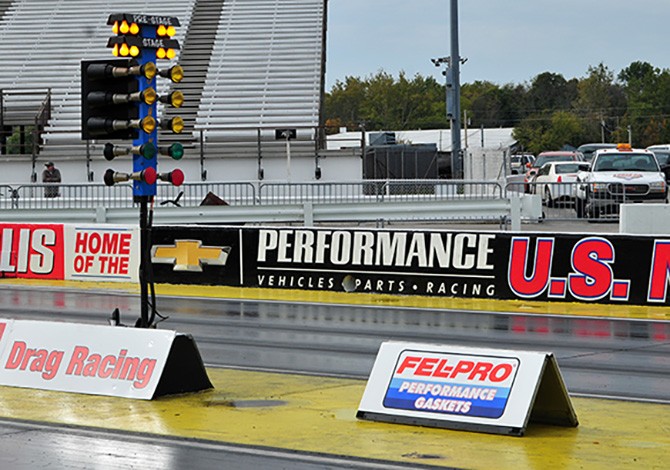 The World Street Finals is the culmination of two NMCA racing series: the Flowmaster Muscle Car Nationals and the Chevrolet Performance LSX Challenge Series. The LSX Challenge Series is the premier racing series for street-based vehicles powered by Chevrolet LS engines. The event brought virtually every American muscle car, engine and power-adder combination to the track. Members of the Fel-Pro team from Skokie, Illinois (home of Fel-Pro engineering, marketing, manufacturing and distribution), were eager to make the short drive to the event.
The Fel-Pro engineering and product marketing team walked the pits to benchmark racer product use and performance in high performance applications.

"The World Street Finals attracted over 400 drivers who push their engines to their absolute limits for a chance to win a class championship, and it's likely a majority of those engines are sealed with Fel-Pro performance gaskets," said Ron Rotunno, product manager of high-performance sealing for Federal-Mogul Motorparts.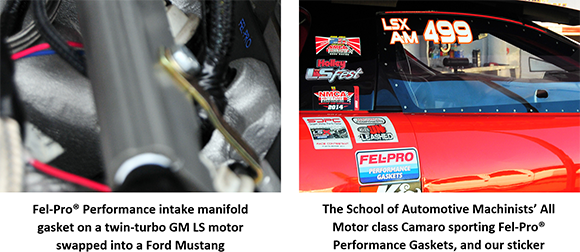 Ron explains the importance of performance gaskets: "The high performance engines used in motorsports require purpose-built sealing solutions. It's our job to identify the dynamic forces of any running engine and develop gaskets that can withstand that operating environment. Race cars require gaskets engineered to stand up to extreme pressures and temperatures. These drivers push their vehicles to the absolute limit — it doesn't matter if it's a street car or a purpose-built race car."
At the center of our pit conversations last weekend was Fel-Pro PermaTorque® MLS performance multi-layer-steel head gaskets. These gaskets provide the robust seal needed to contain the extreme combustion pressures and temperatures common to high-compression naturally aspirated, supercharged, turbocharged, and nitrous oxide-injected performance engines. The multiple layers of premium full-hard stainless steel precisely engineered sealing beads and advanced polymer coatings help to maintain contact pressure between the cylinder head and block. Where applicable, the LaserWeld™ stopper layer prevents over-compression of the gaskets' emboss beads and reduces head lift to ensure a robust seal in extreme operating conditions. Many LS engines are all aluminum, and some use cast iron blocks; the PermaTorque MLS head gasket provides a reliable seal on these engines, even under the extreme conditions created by this type of racing.

"The feedback we received from the racers was invaluable," said Rotunno.
"Many of the race teams commented on the use of Fel-Pro PermaTorque® MLS gaskets and how they are changing performance engine sealing for the better. The visits allow us the opportunity to gain information regarding needed bore sizes and thicknesses and to add coverage where needed".
How are MLS head gaskets changing the way performance engines are sealed? The practice of "O-ringing" the engine (machining receiver grooves for O-rings into the engine block or cylinder heads) has long been considered necessary to create the super-strong combustion seal some engines required. This process is expensive and permanently alters the engine, since material cannot be added back once the groove is machined. It has now been proven that MLS gaskets are just as effective, if not more effective, at creating a superior combustion seal. They also do not require any special machining, as the emboss beads within the multiple layers of stainless steel are more than sufficient to do the job that a wire ring had previously done. The strong active layers and strategically placed emboss beads help combat the effects of head lift, which is prominent when forced induction is used.

In addition to PermaTorque MLS, racers were relying on Fel-Pro Performance intake manifold and exhaust header gaskets and PermaDryPlus® oil pan gaskets, with one-piece construction that makes installation quick and easy. Other popular products are PermaDryPlus valve cover gaskets, which don't compress like cork-rubber, making them ideal for on-again/off-again usage in racing engines; front and rear main seals; valve stem seals and other products.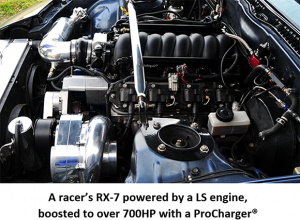 Fel-Pro engineers and product managers were inspired to see how these drivers trust Fel-Pro gaskets to seal these incredible engines and the extremes that the engines are pushed to. All observations and input were captured and taken back to the Fel-Pro facility in Skokie for development of sealing solutions to address the newest challenges and to ensure maximum performance.