Fel-Pro Hot Rodders of Tomorrow Team Impresses At Pri 2014
PRI 2014 was full of excitement, but for us one of the most thrilling parts of the event was watching the Hot Rodders of Tomorrow (HROT) Engine Challenge. HROT is a nationwide non-profit organization that hosts engine building competitions for high school and trade school students, enabling them to earn scholarships for the schools of their choice.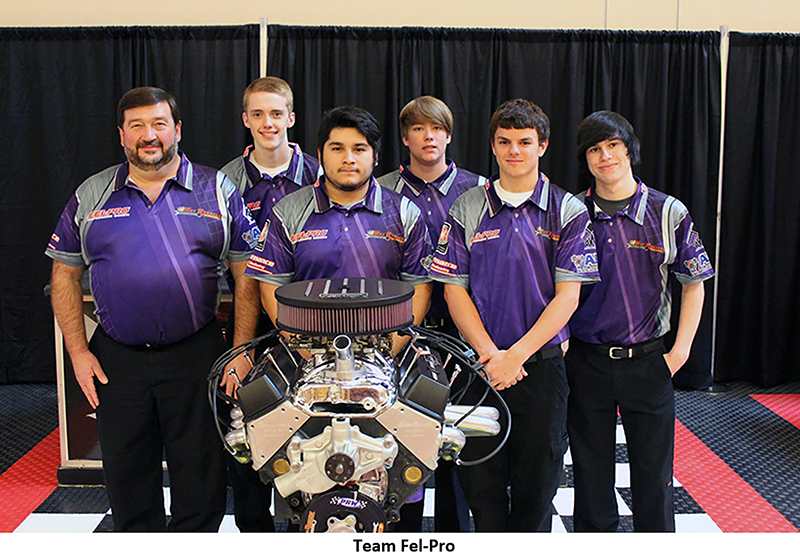 Fel-Pro Performance Gaskets sponsored the Peach Country High School team from Fort Valley, Georgia, this year. Wednesday brought the first round of competition for Team Fel-Pro. HROT co-founder Rodney Bingham and the Fel-Pro team sat down with us later that evening where the driven young men explained the structure and rules of the competition.
Created by Jim Bingham and his son Rodney, the program was established to help students develop an interest and pursue careers in automotive related fields. Teams train and compete all year to gain speed and accuracy in tearing down and rebuilding an engine. Each competitive heat resembles the teardown process between passes at a drag race. The speed with which the teams disassemble and reassemble a Small Block Chevrolet engine is astonishing. Times of 20 minutes or less are not uncommon (with one team setting a new national record of 16:22!). Students must properly disassemble the engine, adhering to proper detorque and disassembly procedure. The cam and crank are the only components left in the block. Once the judges give the OK, the team begins reassembly, again with correct assembly procedure and torque specs—all without power tools—and with the added pressure of being closely watched by judges who readily penalize the teams for any assembly errors.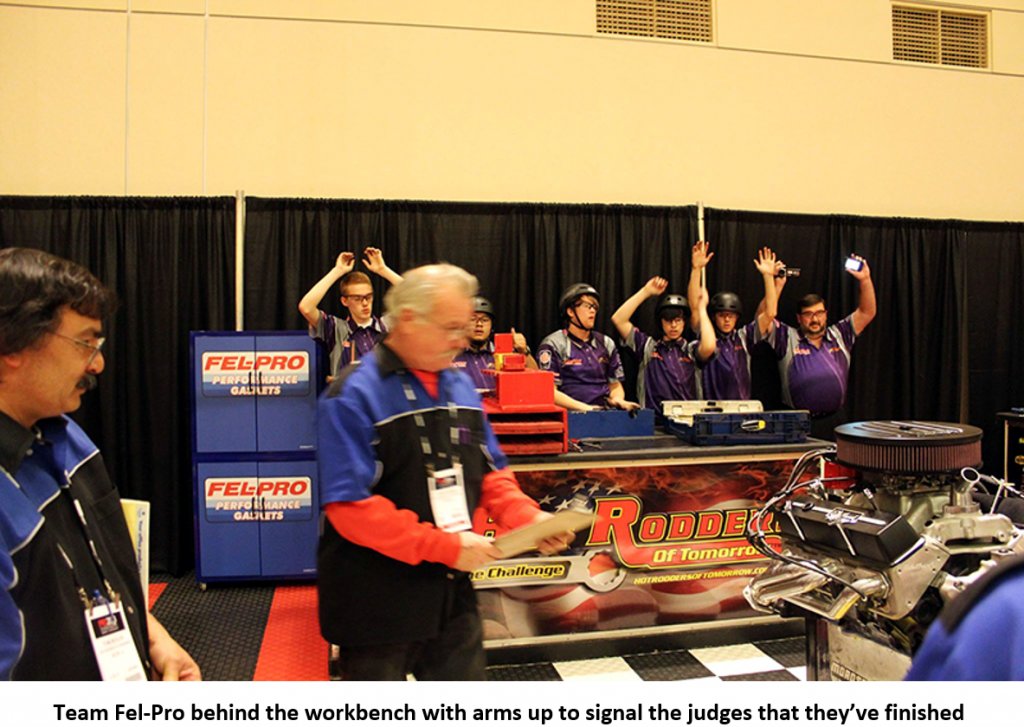 Don't think these engines are just thrown together either. Timing is set, valves are adjusted and everything is properly torqued, from the two-step torque procedure for the head gaskets to the spark plugs. If gas, water, and oil were added to these reassembled engines, they would fire up and run!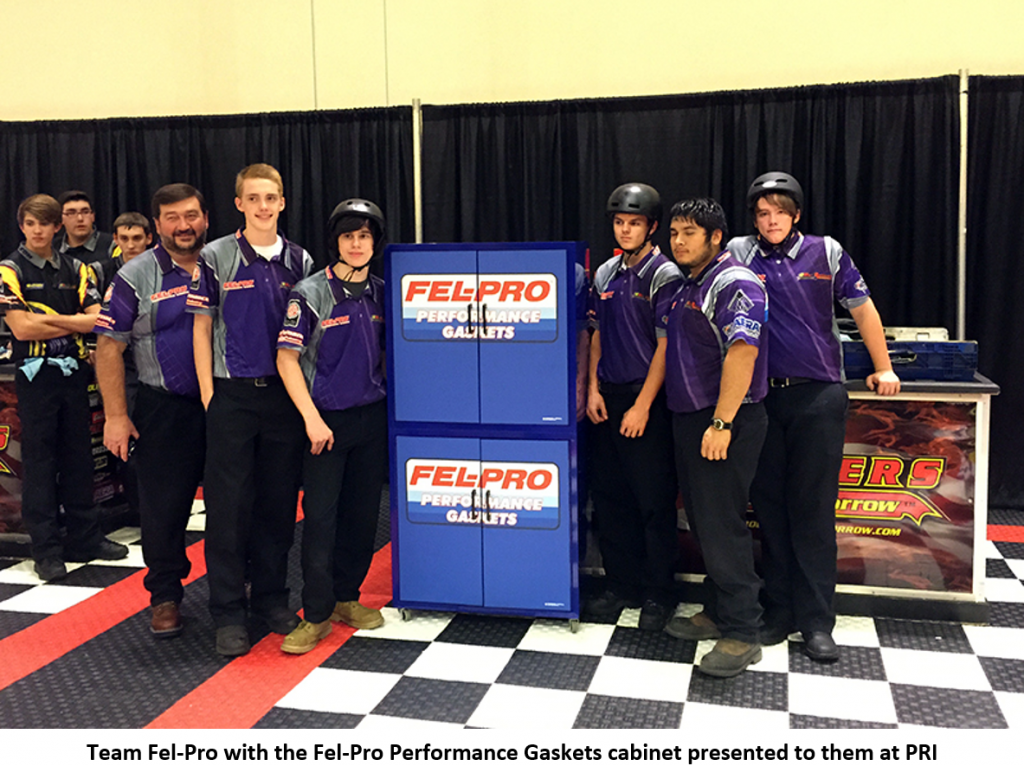 The only time-saving allowance the teams are allowed to use in the competition is the Fel-Pro one-piece oil pan gasket. (Imagine trying to install a multi-piece oil pan gasket in a hurry!)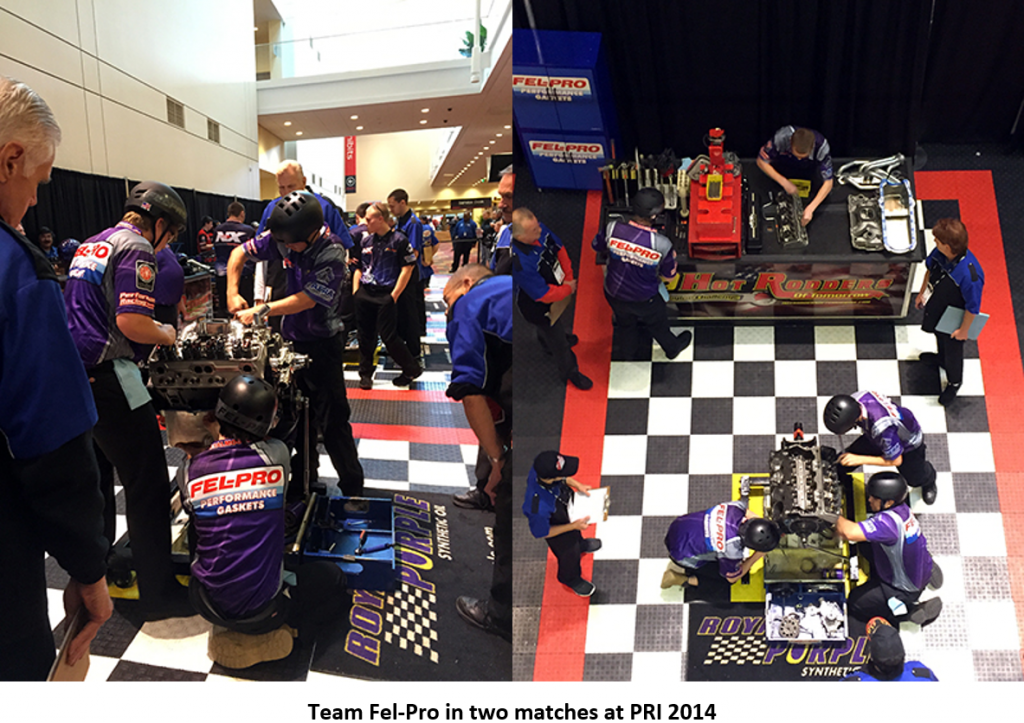 At the end of the intense competition, Team Nitrous Express took 1st with an average time of 18:06:40 over three runs. Team Derale placed 2nd with an average time of 18:36:40, Team Autometer came in 3rd with an average of 19:14:40, and Team Moroso was 4th, averaging 20:10:20.
Our Fel-Pro team didn't advance to the final round of the championship this year, but we can't be more proud of these young technicians and having these individuals representing us and wearing the Fel-Pro name on their uniforms. Their average time over 3 runs was 21:48:40, with a best build time of 17:55, with no penalties!  Extremely impressive. We're confident they'll be back and even faster next year! They have the drive and the passion.
For more information on HROT, visit http://www.hotroddersoftomorrow.com/