INNOVATIVE FEL-PRO® HEAD GASKET DESIGN ADDRESSES COMMON SEALING ISSUE ENCOUNTERED IN 6.0L DIESEL ENGINES
Patent-Pending Fel-Pro PermaTorque® MLS Design Addresses Combustion Sealing Concern, Other Reliability Issues Associated with OE-Style Head Gaskets
Southfield, Michigan, August 19, 2014…The Fel-Pro® Gaskets brand has introduced two innovative Fel-Pro PermaTorque® MLS multi-layer-steel head gaskets that address a common combustion sealing issue encountered in 6.0L diesel engines used in more than 700,000 trucks manufactured between 2003 and 2010. The patent-pending PermaTorque MLS head gaskets (No. 26374PT – 18mm dowel applications; 26375PT – 20mm dowel applications) are now available through Fel-Pro distributors.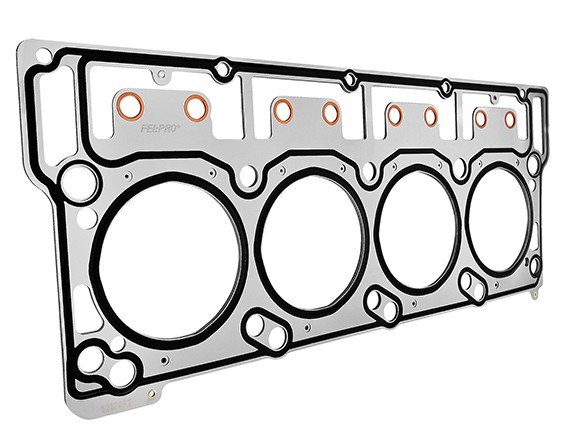 Fel-Pro Gaskets, "The Gaskets Professionals Trust™," are manufactured by Federal-Mogul Motorparts, a division of Federal-Mogul Holdings Corporation (FDML).
Many owners of trucks equipped with Powerstroke® 6.0L diesel engines have encountered premature head gasket failures and resulting engine damage caused by leakage of combustion gasses into the cooling system. The engines, originally equipped with multi-layer-steel head gaskets, have been known to experience combustion leakage at as early as 50,000 miles of service under heavy loads.
"These engines generate a great deal of power, heat and combustion pressure and are being run in vehicles seeing heavy use, which can exceed the sealing capabilities of conventional, OE-style MLS head gaskets," said Jim Daigle, product manager, sealing, Federal-Mogul Motorparts. "Our engineering team invested thousands of hours in designing and testing these new gaskets to ensure that they meet Fel-Pro standards."
The new Fel-Pro PermaTorque MLS head gaskets feature several unique design enhancements that address combustion leakage and other issues encountered in these existing engines. The gaskets include a highly advanced new embossment design that creates increased spring force – and significantly more robust sealing contact – than conventional gasket designs under extreme loads.
The new PermaTorque MLS gaskets also feature a highly controlled thickness of proprietary FKM rubber in all critical sealing areas. Each gasket is engineered to easily accommodate engine overbore.
The new Fel-Pro gaskets provided leak-free performance in dynamometer tests used for 6.0L engines in 2003 to 2010 diesel trucks. Whereas some gaskets failed at approximately 300 engine hours, the Fel-Pro gaskets continued to provide an uncompromised seal. In addition, the Fel-Pro PermaTorque MLS gaskets withstood more than 1,000 extreme "thermal shock" cycles during which engine coolant temperatures were rapidly and repeatedly cycled between 240° F and -30° F.
The new gaskets also help customers address premature push rod wear and resulting oil contamination caused by undersized push rod guide holes in the OE gaskets. Federal-Mogul Motorparts engineers developed patent-pending oversize guide holes surrounded by a non-abrasive material in potential contact areas.
For more information regarding the new Fel-Pro PermaTorque MLS head gaskets for 6.0L diesel engines, please contact your Fel-Pro distributor or Federal-Mogul Motorparts representative.
About Federal-Mogul
Federal-Mogul Holdings Corporation (NASDAQ: FDML) is a leading global supplier of products and services to the world's manufacturers and servicers of vehicles and equipment in the automotive, light, medium and heavy-duty commercial, marine, rail, aerospace, power generation and industrial markets. The company's products and services enable improved fuel economy, reduced emissions and enhanced vehicle safety.
Federal-Mogul operates two independent business divisions, each with a chief executive officer reporting to Federal-Mogul's Board of Directors.
Federal-Mogul Motorparts sells and distributes a broad portfolio of products through more than 20 of the world's most recognized brands in the global vehicle aftermarket, while also serving original equipment vehicle manufacturers with products including braking, chassis, wipers and other vehicle components. The company's aftermarket brands include ANCO® wiper blades; Champion® spark plugs, wipers and filters; AE®, Fel-Pro®, FP Diesel®, Goetze®, Glyco®, Nüral®, Payen® and Sealed Power® engine products; MOOG® steering and suspension parts; and Ferodo® and Wagner® brake products.
Federal-Mogul Powertrain designs and manufactures original equipment powertrain components and systems protection products for automotive, heavy-duty, industrial and transport applications.
Federal-Mogul was founded in Detroit in 1899. The company employs more than 45,000 people in 34 countries, and its worldwide headquarters is in Southfield, Michigan, United States. For more information, please visit www.federalmogul.com.