Inside the Problem
Debuting in 1997, General Motors' LS V8 is a popular engine for the auto giant. From sports cars and vans to trucks and SUVs, this engine is found in Chevrolet and GMC models like the Camaro, Corvette, Silverado, Sierra, Suburban, Yukon, Express and Savana. Spanning over 20 years of production, the LS family has a variety of engines. Although they share commonalities, they also have a fair number of differences that require application-specific replacement parts.
The GM LS engine uses edge-molded rubber gaskets for the oil pan gasket, timing cover gasket and rear main bearing seal retainer plate. Over time, compression set can occur where the rubber in the gasket becomes compressed and doesn't rebound to its original shape; this may cause the gasket to seep or leak. This occurs due to heat/cooling cycles and poor oil maintenance contributing to the OE gasket losing its sealing capabilities.
The Solution
Fel-Pro® premium gaskets are engineered and manufactured specifically for the repair environment to help seal imperfect sealing surfaces. The perfect replacement for gaskets that have failed due to compression set, Fel-Pro gaskets are designed to stand up to the demands of today's vehicles. Fel-Pro oil pan gaskets, timing cover gaskets and rear main seal sets for the LS engine use the right materials and technologies such as PermaDry® and Printoseal® to ensure a reliable seal – that's why technicians install Fel-Pro gaskets with confidence.
OS 30693R
This Fel-Pro PermaDry oil pan gasket is made with rubber compounds with a metal carrier to ensure a consistent and long-life seal. The metal carrier of the gasket provides rigidity for easier installation and also acts as a torque limiter to ensure the proper load on its edge-molded rubber.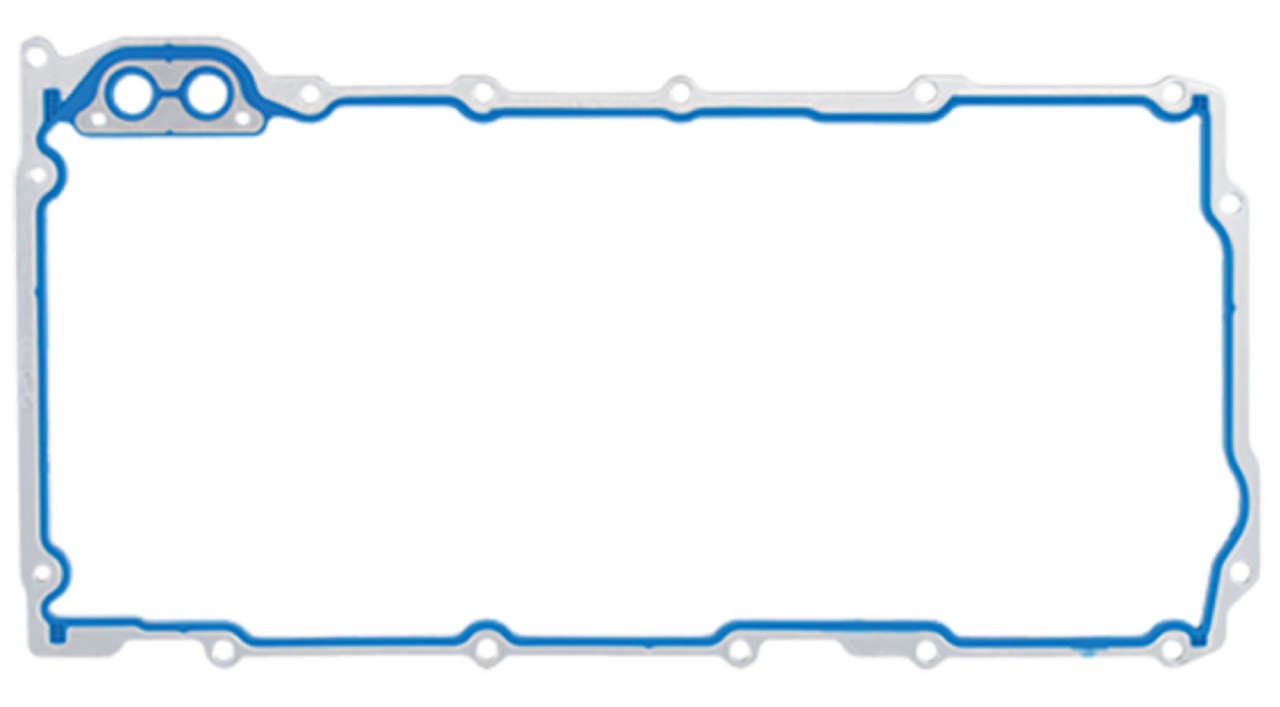 TCS 45993
This Fel-Pro timing cover gasket set has an edge-molded rubber timing cover gasket, PTFE crank seal and two styles of water pump gaskets. The paper water pump gaskets feature premium Printoseal sealing beads.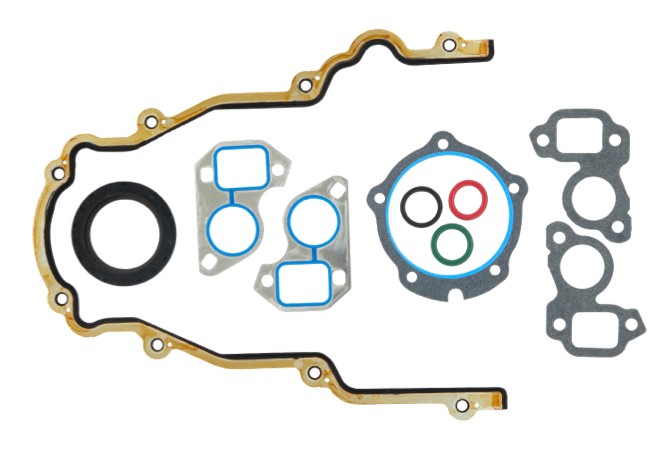 BS 40640
This Fel-Pro rear main seal set features an edge-molded rear cover gasket and a PTFE seal for the RMB seal.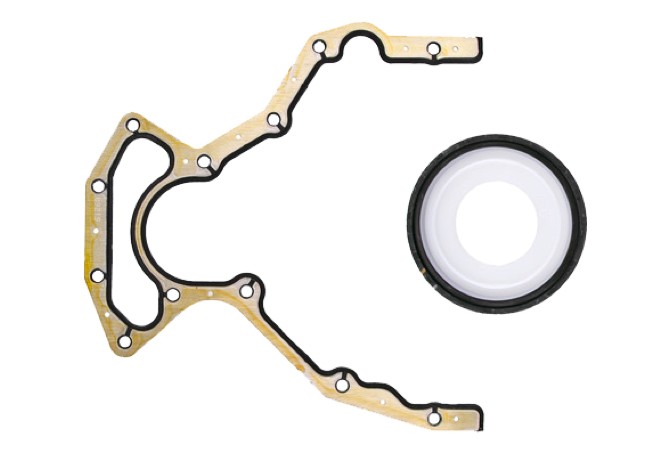 CS 9284
This Fel-Pro conversion set contains all the parts required to seal the lower end of the engine: PermaDry oil pan gasket, front & rear engine covers, front & rear crank seals (with PTFE sealing lip), drain plug gasket, water pump gaskets, oil cooler connection or block-off gaskets and various O-rings.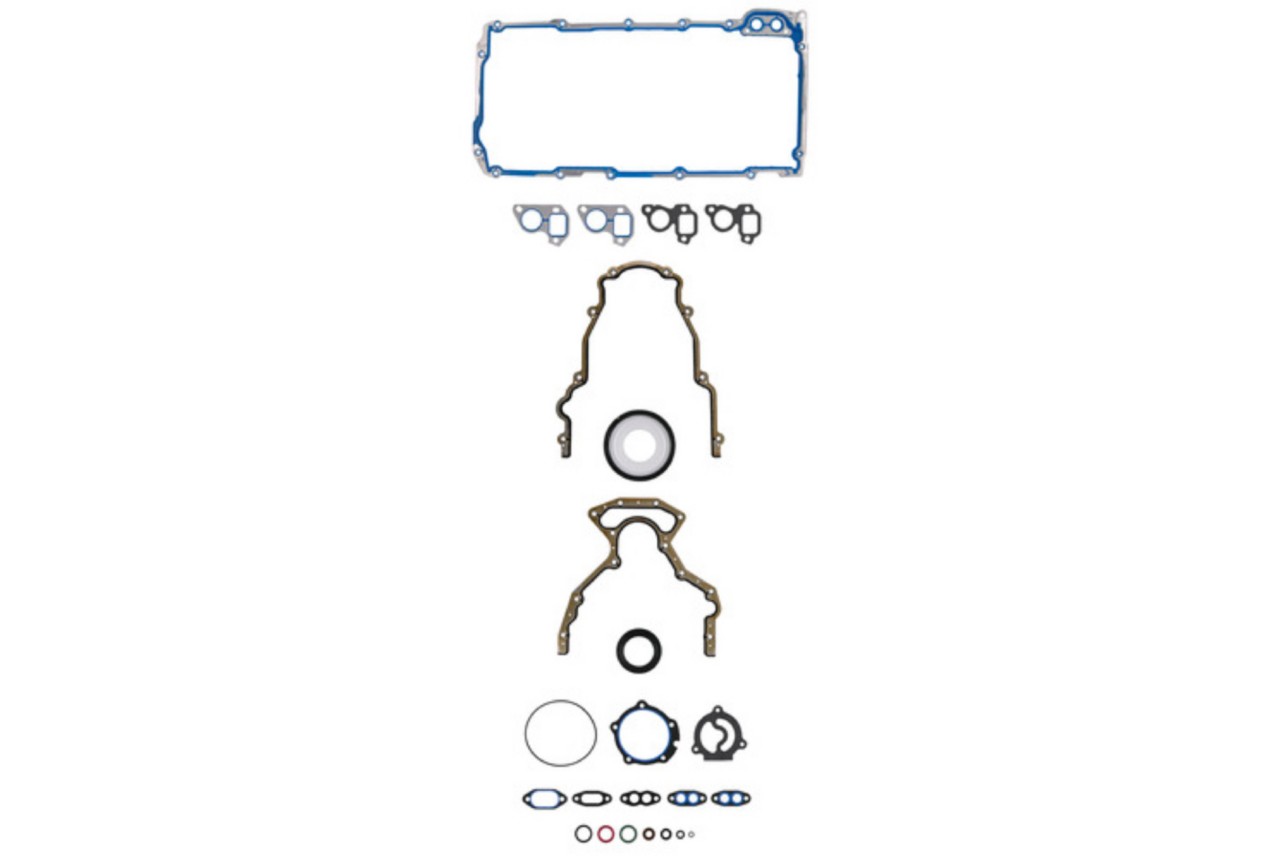 Part Number
Type
Applications
OS 30693R
Oil Pan Gasket

1999-2013 Chevrolet Silverado/GMC Sierra 1500 4.8L/5.3L

2001-2019 Chevrolet Silverado/GMC Sierra 2500 HD 6.0L

2007-2019 Chevrolet Silverado/GMC Sierra 3500 HD 6.0L

2000-2014 Chevrolet Tahoe & Suburban/GMC Yukon 5.3L

2005-2009 GMC Envoy 5.3L

2006-2009 Chevrolet Trailblazer 5.3L

2002-2013 Chevrolet Avalanche 5.3L

2003-2014 Chevrolet Express/GMC Savana 1500 5.3L

2008-2013 Chevrolet Corvette 6.2L

2010-2015 Chevrolet Camaro 6.2L

2009-2015 Cadillac CTS 6.2L

2004-2007 Buick Rainier 5.3L

2011-2017 Chevrolet Caprice 6.0L

2003-2007 Hummer H2 6.0L

2005-2008 Pontiac Grand Prix 5.3L

1998-2002 Pontiac Firebird 5.7L

2007-2014 Cadillac Escalade 6.2L

2002-2013 Cadillac Escalade 6.0L

TCS 45993
Timing Cover Gasket Set
BS 40640
Rear Main Seal Set
CS 9284
Conversion Set
---
Learn more about Fel-Pro quality gaskets that are specifically designed for the repair environment, find your car part, or find where to buy your auto part today.
The content contained in this article is for informational purposes only and should not be used in lieu of seeking professional advice from a certified technician or mechanic. We encourage you to consult with a certified technician or mechanic if you have specific questions or concerns relating to any of the topics covered herein. Under no circumstances will we be liable for any loss or damage caused by your reliance on any content.

© 2022 DRiV Automotive Inc. or one of its affiliates in one or more countries.