The Leak Stops Here
Engine oil and coolant leaks are problematic. These not only cause unsightly stains but may lead to serious engine problems if not repaired. From valve cover gaskets to oil pan gaskets, your vehicle relies upon a number of different gaskets to keep fluids from leaking. If you have a leak, you've got a problem.
Fel-Pro® designs gaskets specifically for the repair environment to help seal imperfect sealing surfaces. Using application-specific proprietary technologies such as PermaDryPlus®, PermaDry®, Blue Stripe® and High Temperature Alloy, Fel-Pro® gaskets are engineered, tested and manufactured to deliver a reliable seal. Fix leaks right the first time with Fel-Pro® gaskets.
Fel-Pro Leak Repair Gaskets
In the real world, vehicles age and engine components begin to wear and eventually leak. If the problem isn't fixed, it can get worse; that's where Fel-Pro® gaskets can help. Designed and engineered to address the unique characteristics of the application, Fel-Pro® gaskets are designed for the real-world environment to provide a reliable seal on less than perfect surfaces to keep fluids where they belong - in the engine and off your driveway. Common types of leak repair gaskets include:
Intake Manifold Gaskets
Intake manifold leaks are a common engine problem. Drivability issues like rough idling and stumbling upon acceleration can occur when a vacuum leak allows too much air to enter the combustion chamber. Some intake gaskets may have coolant passing through them which can also cause a leak that can result in low coolant levels and possible engine overheating. Where applicable, Fel-Pro® offers PermaDryPlus intake manifold gaskets that feature molded rubber over an aluminized steel carrier which resists high heat and coolants.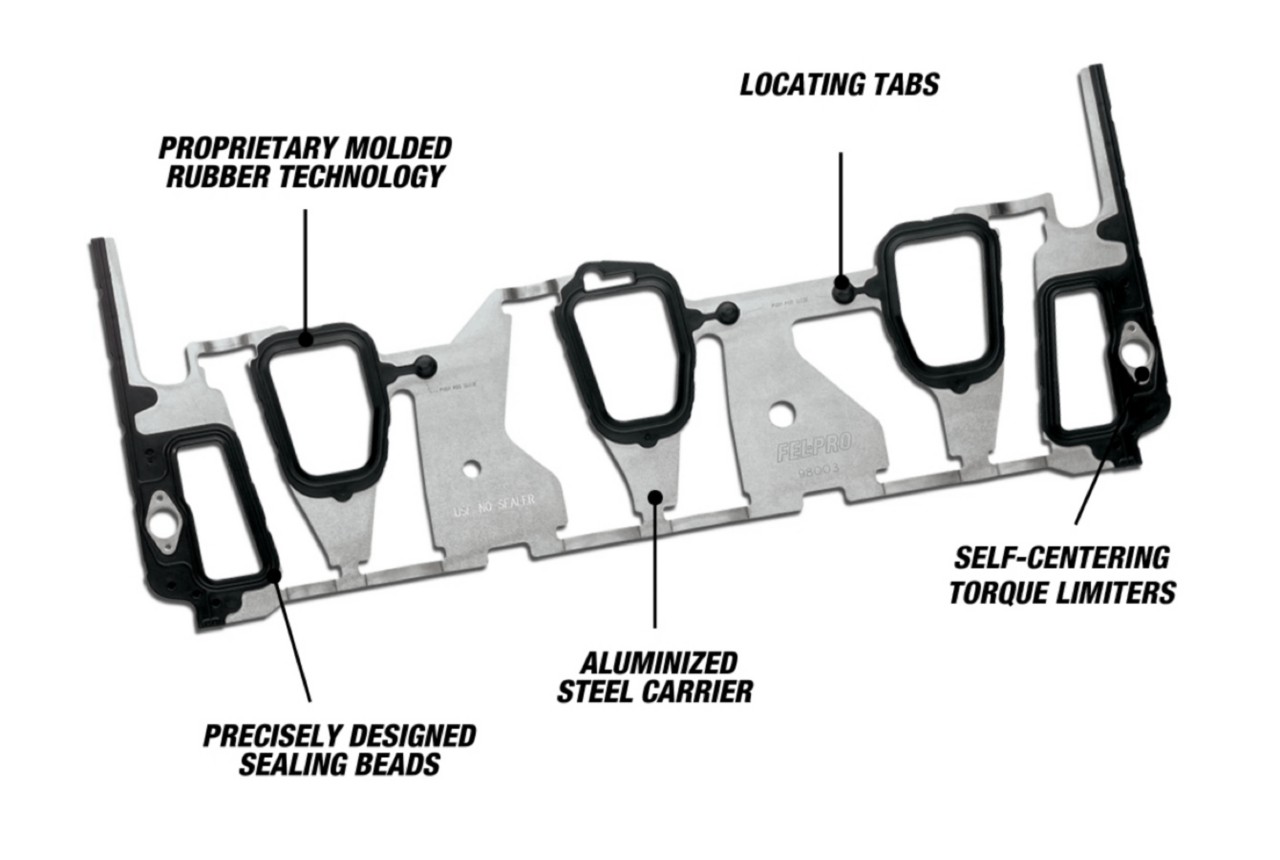 Oil Pan Gaskets
The job of the oil pan gasket is to prevent motor oil from leaking out of the oil pan. Sealing the oil pan to the bottom of the engine, the oil pan gasket must withstand the stresses of the two surfaces expanding and contracting while sealing in motor oil. Fel-Pro oil pan gaskets feature application-specific, proprietary sealing solutions such as PermaDryPlus, PermaDry and Blue Stripe to help eliminate problematic leak paths. Many sets feature innovative SnapUps® installation aid to speed up the repair process.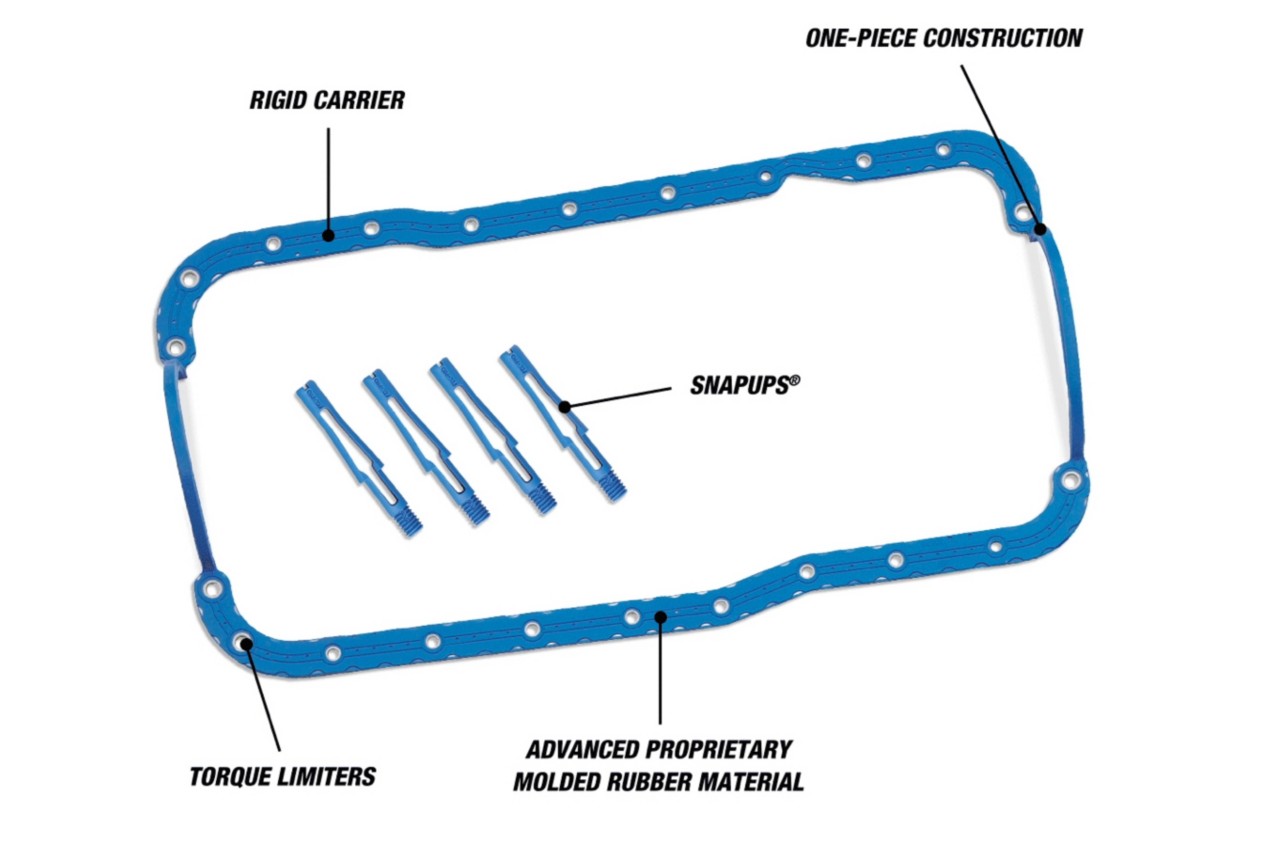 Rear Main Seals and Front Crankshaft Seals
Designed to keep oil from leaking at the front and rear of the crankshaft, these seals are critical. On a vehicle with a manual transmission, a faulty or worn rear main seal may allow oil to leak onto the clutch, causing slipping and chattering. A leaking front crankshaft can leak oil onto the drive belts and timing belt. Fel-Pro rear main seals and front crankshaft seals feature the right design and material for your application to help resist heat and deliver a reliable seal.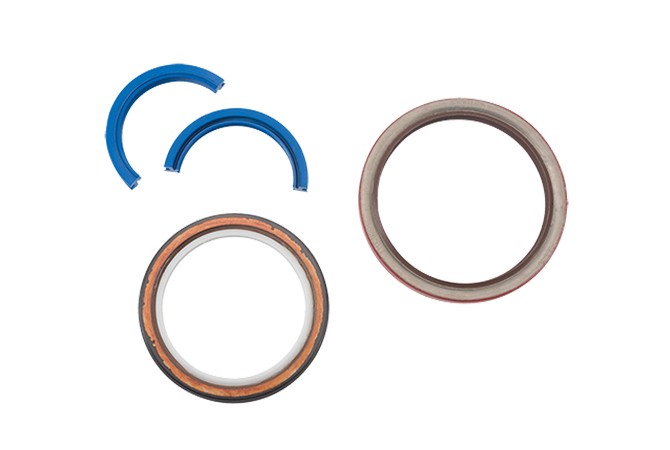 Timing Cover Gaskets
Located at the front of the engine where the timing chain resides, the timing cover gasket provides a seal between the timing cover and engine block. Some timing covers are made of a different material than the block, and with the expansion and contraction cycles of the engine, the gasket's sealing material may wear away leading to oil and coolant leaks. In addition, some timing cover gaskets are required to seal coolant and high pressure oil as well as splashing oil from the timing chain. Fel-Pro® timing cover gasket sets include application-specific technologies such as PermaDryPlus or Blue Stripe to help ensure a superior seal. Also, in some applications Fel-Pro® upgrades from a paper part to LEM technology that is silicone rubber on an aluminum core.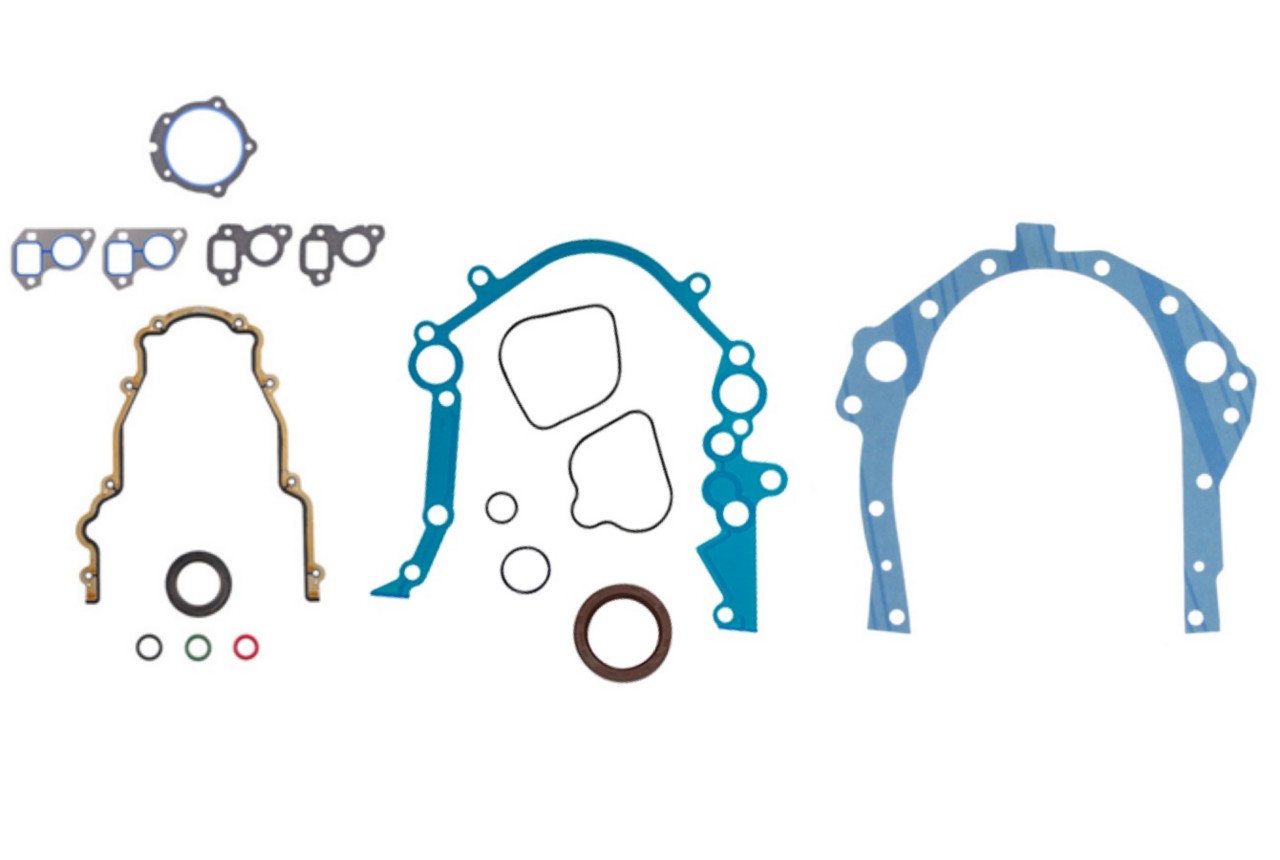 Valve Cover Gaskets
Designed to seal the valve cover(s)/cam cover(s) to the top of the engine cylinder head, the valve cover gasket prevents motor oil from leaking out of this joint. With repeated exposure to heat, dirt and debris, as well as expansion/contraction cycles, the valve cover gasket can become brittle, crack, and suffer from compression set leading to gasket failure. Fel-Pro valve cover gaskets include application-specific technologies that conform to imperfect sealing surfaces found in the repair environment.
Exhaust Manifold Gaskets
Responsible for sealing the exhaust manifold(s) to the cylinder head(s), the exhaust manifold gasket keeps the dangerous exhaust gases from leaking out before they pass through the catalytic converter. If the exhaust manifold gasket fails, it can affect the performance and drivability of the vehicle and could potentially leak toxic gases into the vehicle's cabin. Featuring technologies such as Blue Stripe and High Temperature Alloy, Fel-Pro® exhaust manifold gaskets conform to surface irregularities and resist blow-out from high-temperature exhaust gasses.
Fel-Pro Leak Repair Technologies
Fel-Pro® designs application-specific gaskets for the repair environment. Proprietary materials, proven technologies and installation aids help Fel-Pro® gaskets provide a reliable seal on even the most troublesome applications. You can install Fel-Pro® gaskets with confidence. Experience the Fel-Pro® Difference and learn why Fel-Pro® gaskets are The Gaskets Professionals Trust™.
PermaDryPlus
These problem-solving gaskets feature the latest technologies designed specifically for the aftermarket repair environment. Engineered to improve upon the OE design, they are the right choice for any application in which the OE design and/or traditional replacement gaskets have been known to fail or are difficult to install. When technicians install PermaDryPlus they can be confident of a precise fit and superior sealing performance, even on problematic applications.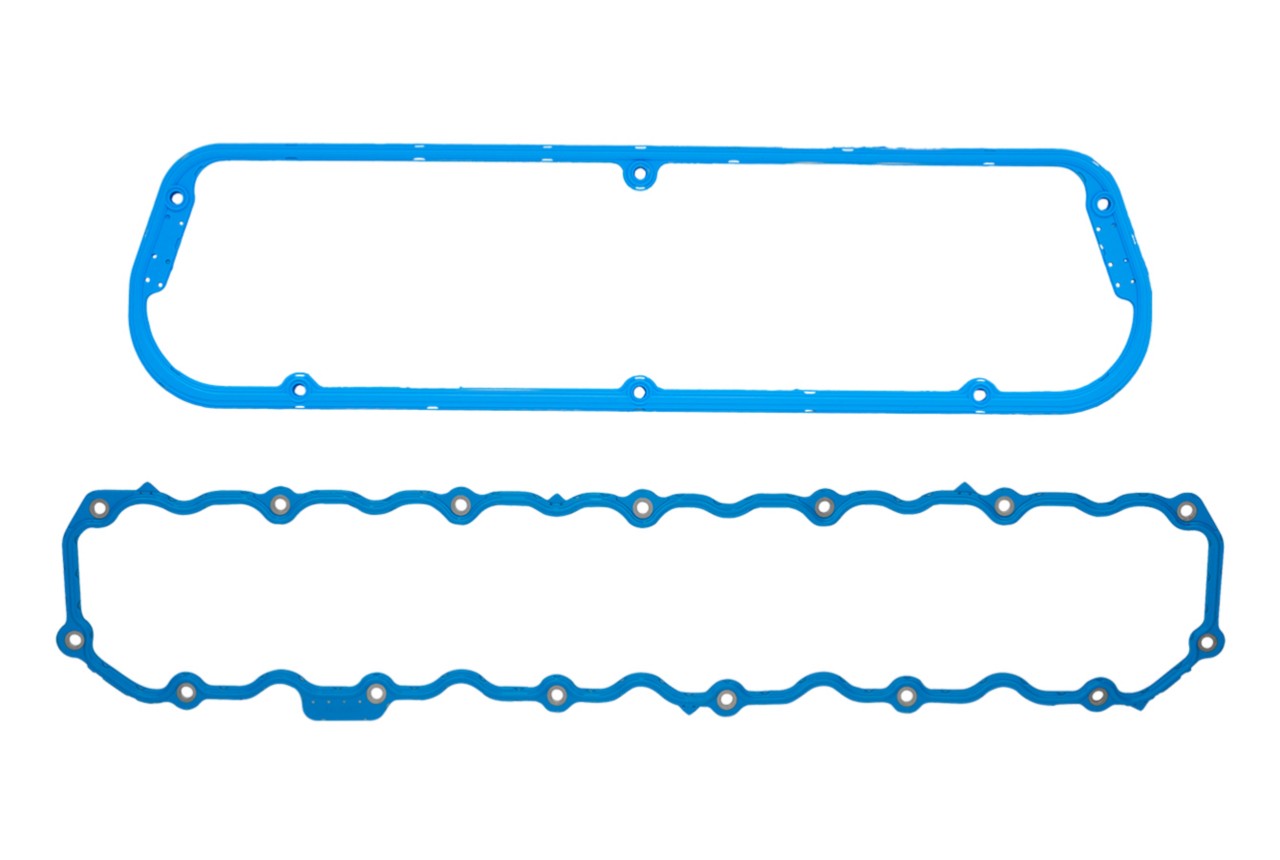 PermaDry
PermaDry premium molded-rubber gaskets are designed for those applications that utilize a molded-rubber gasket as original equipment. Molded rubber gaskets are designed for valve covers and oil pans, which often have a special groove formed into it. Engineers determine the exact amount of "compression" needed to achieve a secure seal.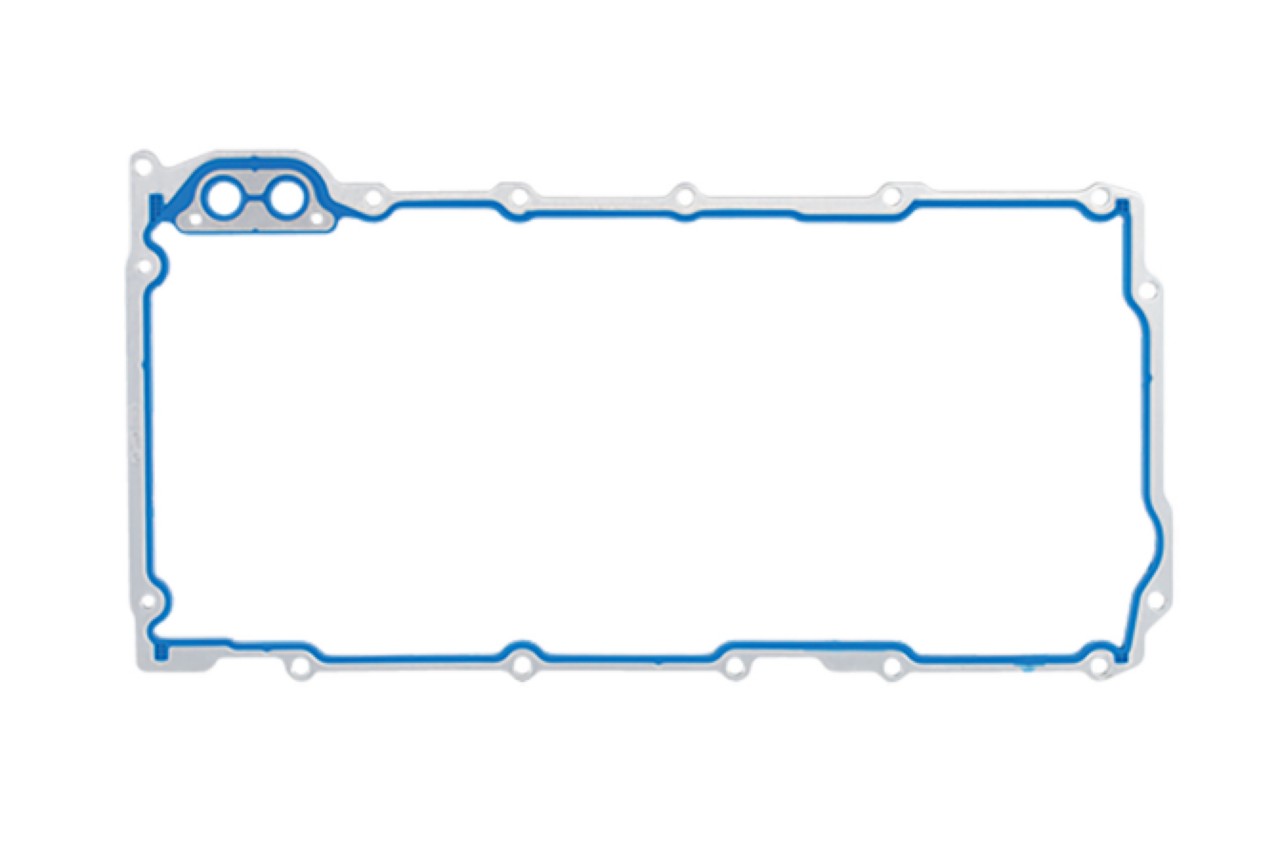 Blue Stripe
This legendary cork-rubber solution combines the qualities of cork and rubber gaskets. It maintains its shape and flexibility, provides the proper compressibility to effectively seal the application, and are easy to install.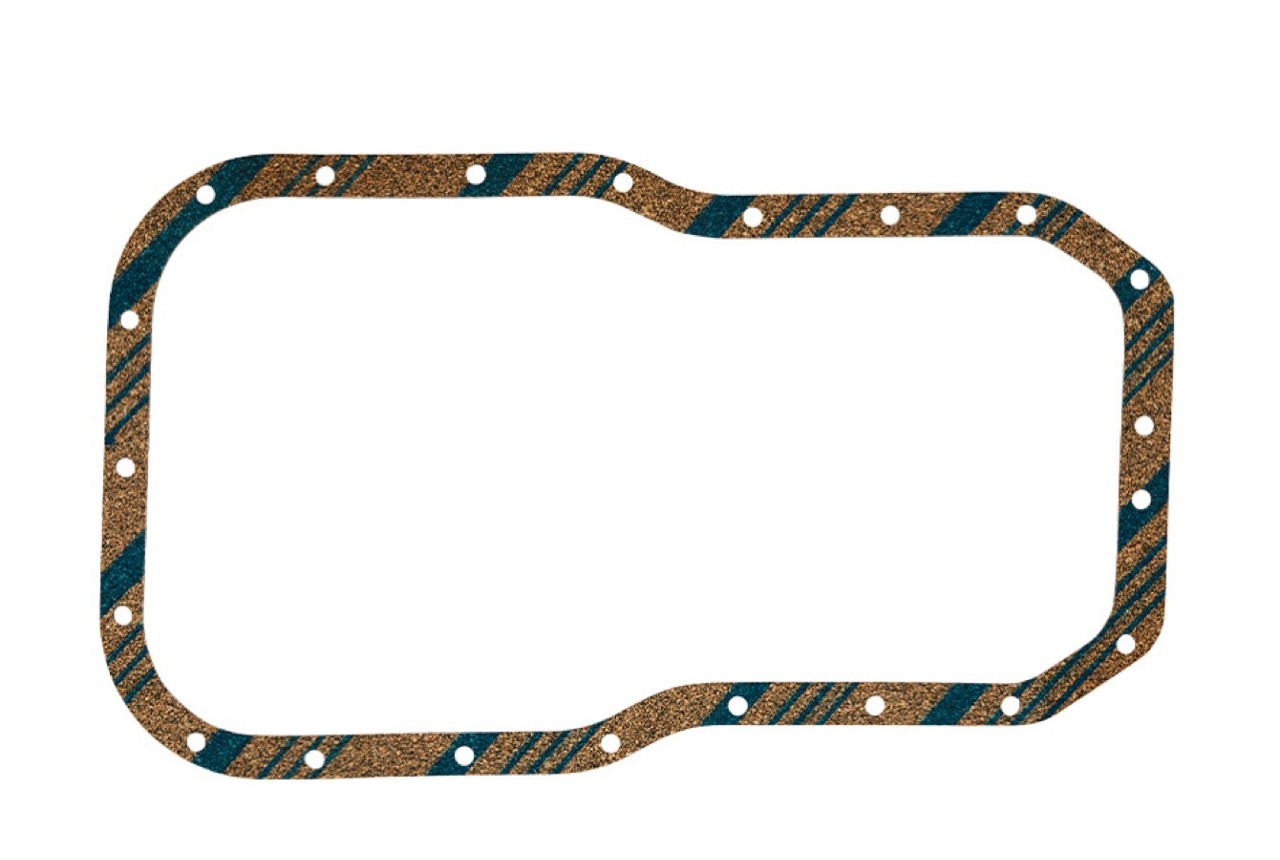 High Temperature Alloy (HTA)
Engineered to handle today's high output and hotter running engines, Fel-Pro's proprietary line of HTA (High Temperature Alloy) exhaust and turbo gaskets feature the right materials and technology to provide a reliable seal. Combining a patented super high temperature alloy material with a proprietary High Temperature Coating (HTC), Fel-Pro® HTA gaskets are designed to perform in high-heat environments retaining their sealing performance up to 1600°F. Fel-Pro's HTA gaskets have gone through rigorous testing processes so you can install them with confidence.
HANDLES EXTREME ENGINE CONDITIONS
Proprietary high-temperature coating withstands temperatures up to 1600°F, resists blow-out from high-temperature exhaust gasses and ensures superior sealing over a broad range of surface finishes.
SUPERIOR SEAL
Precise embossed sealing beads act like a spring, maintaining sealing contact to eliminate potential leak paths.
PROPRIETARY COATING
Application-specific coating helps reduce friction to prevent galling/scuffing of sealing surface.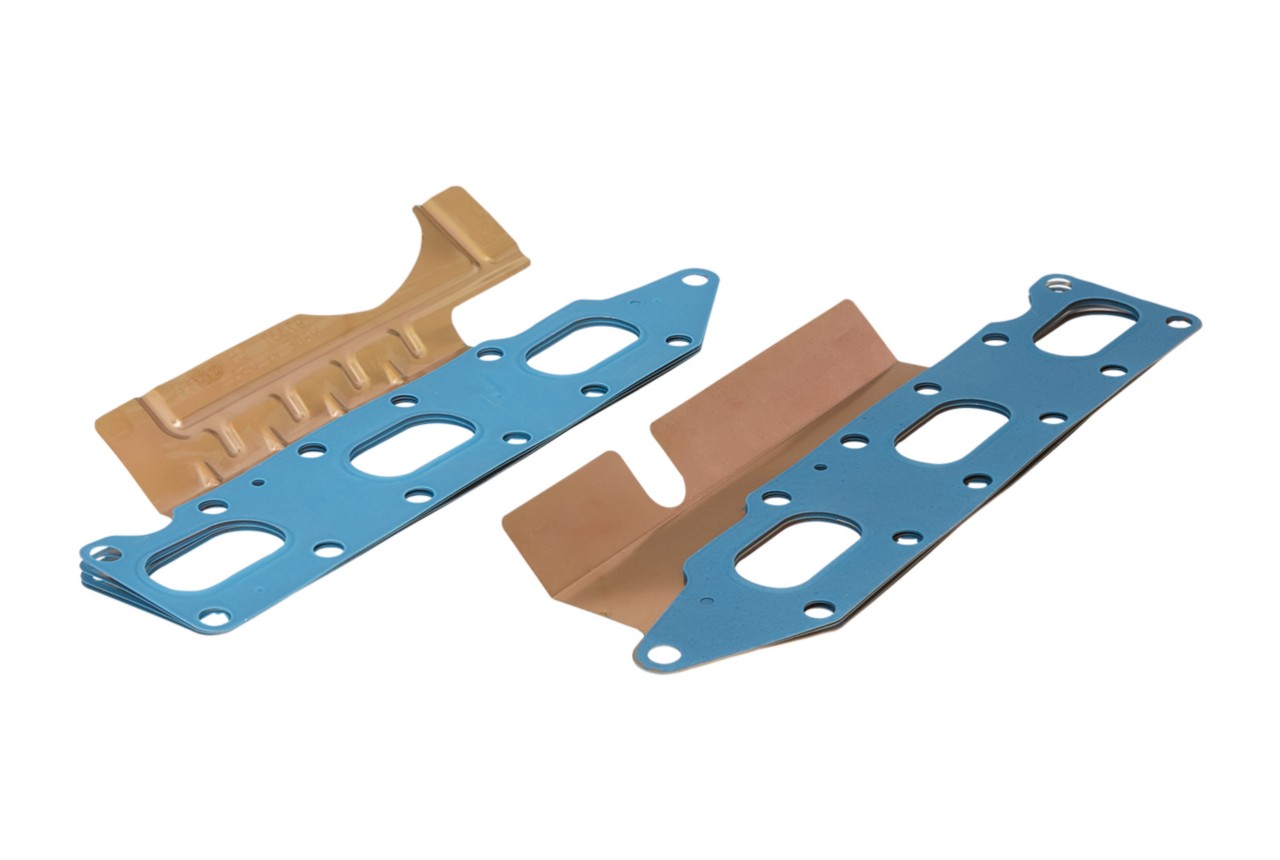 ---
Learn more about Fel-Pro quality gaskets that are specifically designed for the repair environment, find your car part, or find where to buy your auto part today.
The content contained in this article is for informational purposes only and should not be used in lieu of seeking professional advice from a certified technician or mechanic. We encourage you to consult with a certified technician or mechanic if you have specific questions or concerns relating to any of the topics covered herein. Under no circumstances will we be liable for any loss or damage caused by your reliance on any content.

© 2022 DRiV Automotive Inc. or one of its affiliates in one or more countries.