FEL-PRO® FIRST TO OFFER SUZUKI HEAD GASKET SET FEATURING REPLACEMENT EGR ADAPTOR GASKET
New Premium Set for 2.0L Suzuki Engines Enables Repair Professionals
To Avoid Purchasing Expensive Dealer Part
Southfield, Michigan, August 26, 2014…The Fel-Pro® Gaskets brand has introduced the aftermarket's first head gasket set featuring an original equipment-style replacement EGR adaptor gasket for 2006-2008 Suzuki L4 2.0L DOHC engines. The new PermaTorque® MLS head set – No. HS26317PT2 – is now available through leading Fel-Pro suppliers. Fel-Pro gaskets are manufactured by Federal-Mogul Motorparts, a division of Federal-Mogul Holdings Corporation (NASDAQ: FDML).
Head gasket replacement on these Suzuki engines requires the replacement of the OE graphite/metal EGR gasket. Prior to the introduction of the new Fel-Pro PermaTorque MLS head set, this gasket was available only through Suzuki dealerships. The new Fel-Pro set enables engine rebuilders and other repair professionals to save time and as much as 50 percent of the cost of the OE gasket. The Fel-Pro replacement gasket also is available as a single part (No. 71379).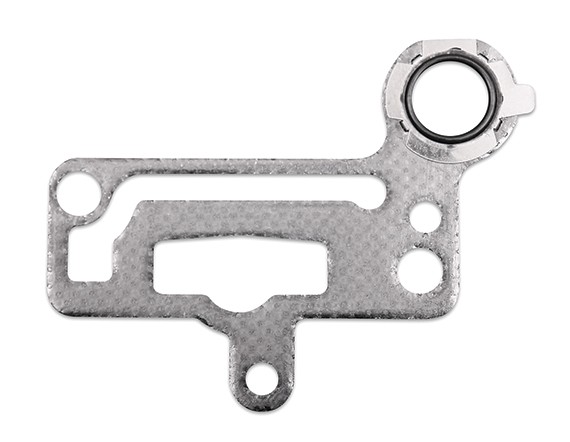 The new head set features a Fel-Pro PermaTorque no-retorque head gasket with a premium facing material, coating and robust combustion armor for an ultra-reliable seal. The set includes the more than 50 individual gaskets, seals, grommets and other components needed to perform a complete, high-quality repair.
As "The Gaskets Professionals Trust™," Fel-Pro gaskets feature an array of innovative designs and proprietary materials engineered specifically for the aftermarket repair environment. With engineering and manufacturing operations based in Skokie, Ill., the brand offers comprehensive coverage of automotive sealing needs.
For more information regarding Fel-Pro gaskets, please contact your Fel-Pro supplier or visit www.felpro-only.com.
About Federal-Mogul
Federal-Mogul Holdings Corporation (NASDAQ: FDML) is a leading global supplier of products and services to the world's manufacturers and servicers of vehicles and equipment in the automotive, light, medium and heavy-duty commercial, marine, rail, aerospace, power generation and industrial markets. The company's products and services enable improved fuel economy, reduced emissions and enhanced vehicle safety.
Federal-Mogul operates two independent business divisions, each with a chief executive officer reporting to Federal-Mogul's Board of Directors.
Federal-Mogul Motorparts sells and distributes a broad portfolio of products through more than 20 of the world's most recognized brands in the global vehicle aftermarket, while also serving original equipment vehicle manufacturers with products including braking, chassis, wipers and other vehicle components. The company's aftermarket brands include ANCO® wiper blades; Champion® spark plugs, wipers and filters; AE®, Fel-Pro®, FP Diesel®, Goetze®, Glyco®, Nüral®, Payen® and Sealed Power® engine products; MOOG® steering and suspension parts; and Ferodo® and Wagner® brake products.
Federal-Mogul Powertrain designs and manufactures original equipment powertrain components and systems protection products for automotive, heavy-duty, industrial and transport applications.
Federal-Mogul was founded in Detroit in 1899. The company employs more than 45,000 people in 34 countries, and its worldwide headquarters is in Southfield, Michigan, United States. For more information, please visit www.federalmogul.com.